Whether you are selling your home, or you are renovating it just because you find your rooms boring, something that will always come handy are some good painting and home decor ideas in Australia.
There is so much you can do in your home with the right painting and decorating ideas.
Your home deserves a new look in the New Year! So let's get started.
How can you improve the beauty of your home?
There are many reasons why you want to change the way your home looks. You might have come across some trending modern interior design, or you just want to invest in making your home a peaceful environment. Either way, improving your home will benefit you in many ways.
Here are 5 ways you can enhance the beauty of your home in 2022
1. Bring some life to your home's interiors.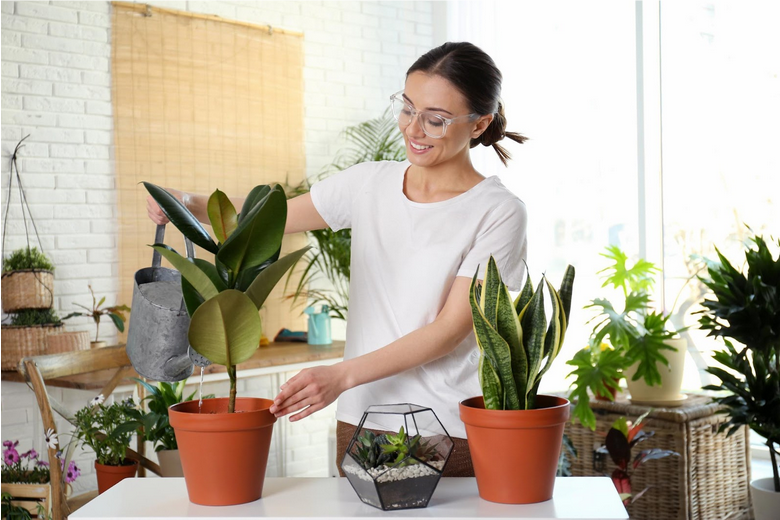 If you are aiming to create a fresh look in your home, adding some greenery is the perfect way to do it. There are many indoor plants with a large variety of sizes and types. Depending on the space of the room, you can choose to place a plant or two to create a positive, calming vibe.
House plants add a lot of decorative touch to your home décor. It also adds great energy to your surroundings. You can also add some hanging plants to your outdoor space and accessorise the place with some comfortable furniture.
Tip: Before purchasing your plants, make sure that your room environment is friendly for the plants to survive. Keep them in a cool and dry area to help them grow well. Keep them green and healthy to maintain the look in your home!
Rather than just stuffing all the items into a room to create space in your home, you can use some exciting home décor ideas from the internet and start creating a theme for each room. You can find many ideas and the latest 2022 trends on Pinterest.
Combine your thoughts and enhance the space you have. You place an unusual amount of significance on every one of your rooms. Redefining your home by highlighting its most excellent features is possible. The correct paint, furniture, and accessories may all be selected with a well-thought-out theme.
Tip: When you are choosing a theme, make sure not to get carried away and overdo it! Sometimes a simple theme is the best way to improve your home's beauty. Try getting fewer things when you build the theme and make sure they are functional.
3. Decorating your Floors
One of the main elements in your home is your floor. This is why you should never ignore your floor decors when improving your home décor. Your floor matters and it adds a modern interior design look to your home. You can transform any room in your house by choosing from many designs, such as woodwork, tiles, luxury carpets, and others.
Tip: Whether you are going for an extravagant floor look or a simple one, make sure that you choose a clean and suitable floor look for your home! If you are unsure which one to choose, you can always ask the experts!
4. Add some excitement with a fresh coat of paint
The one thing that brightens and lightens the mood of your home is the paint that you choose for your walls. It can be a decorative design, a plain wall or a bright shade to bring out the crazy excitement in your house.
The right shade of paint can improve a lot of factors in your home. Some of us love keeping it simple, and the rest love going crazy with bright paint ideas, accessories and furniture.
Tip: Make sure that the shade you choose for your home does not clash with your interior.
5. Adding your personal touch
Your home will look nothing like yours without a personal touch. You don't have to be a professional interior designer to change the look of your home. You just need some creativity and some trending home décor ideas to help you out.
You can create a more comforting and loving space in your home by adding a bit of your personal touch.
Your family photos and sentimental items are the best way to beautify your house. You can also add some personal touches to each room. By adding cushions, vases, rugs and other accessories to complete the look.
You can also start adding your kids' favourite cartoon characters, their role models or any inspirational wordings on the walls.
Tip: Keep in mind to make your home cosy and homey while you add your personal touches.
How do you choose a home décor style?
When it comes to choosing a home décor style, there are so many ideas that you can get and it can make it hard to focus on the right one. If you feel like your style is all over the place and it needs a bit of organising, cultivate your décor style gradually and try to make it all come together.
If you don't know where to start, then here is what you can do:
Take ideas from your wardrobe – The perfect place to choose to capture your style is from the clothes that you wear.


Create a style with twists and surprising touches – Take a walk around your home. Take a look at the most exciting and surprising touches and put them together as a new style.


Get inspired with home décor ideas from magazines and online stores – Looking into the latest styles and trends will help you give a minimalist living room look and stylish concept for your home.


Create a mood board – Your ideas can overwhelm you and take over quickly. This is why creating a mood board with the theme colours, concept, furniture sets, accessories and other things will help you choose and maintain a style.


It is perfectly alright to change your mind – When we start decorating our home, there is so much going on. It is perfectly fine to keep changing your mind with the room settings and modern interior design to make it come together just like you want it!
What are the best ideas for decorating your walls at home?
If you are looking for a wall idea to refresh your space, there are many ideas that you can choose from. To make it easy for you, we have put together some of the most trending wall décor ideas for 2022.
Create a gallery wall.
Add a large scale piece of art.
Hang decorative mirrors.
Use wallpapers, decorative painting ideas and create an accent wall.
Paint a fun mural.
Add shelves to your room walls.
Display fashionable wall lights or sculptural scones.
Add some wall hangings such as a 70s macramé or artworks.
Try using removable paints on your wall.
You can go exciting and hang a rug or mount a model bike on your walls.
You can mount your television and systems in your living room.
Hang calendars, whiteboards and other office vibes accessories in your study room.
Think outside the box and add items that will fill your walls and keep them welcoming.
What are some efficient designs for a tiny home?
The best way to keep your space welcoming and beautiful is to find some efficient designs that can work with your style and your space. Here is what you can do when you get home décor ideas for a tiny home: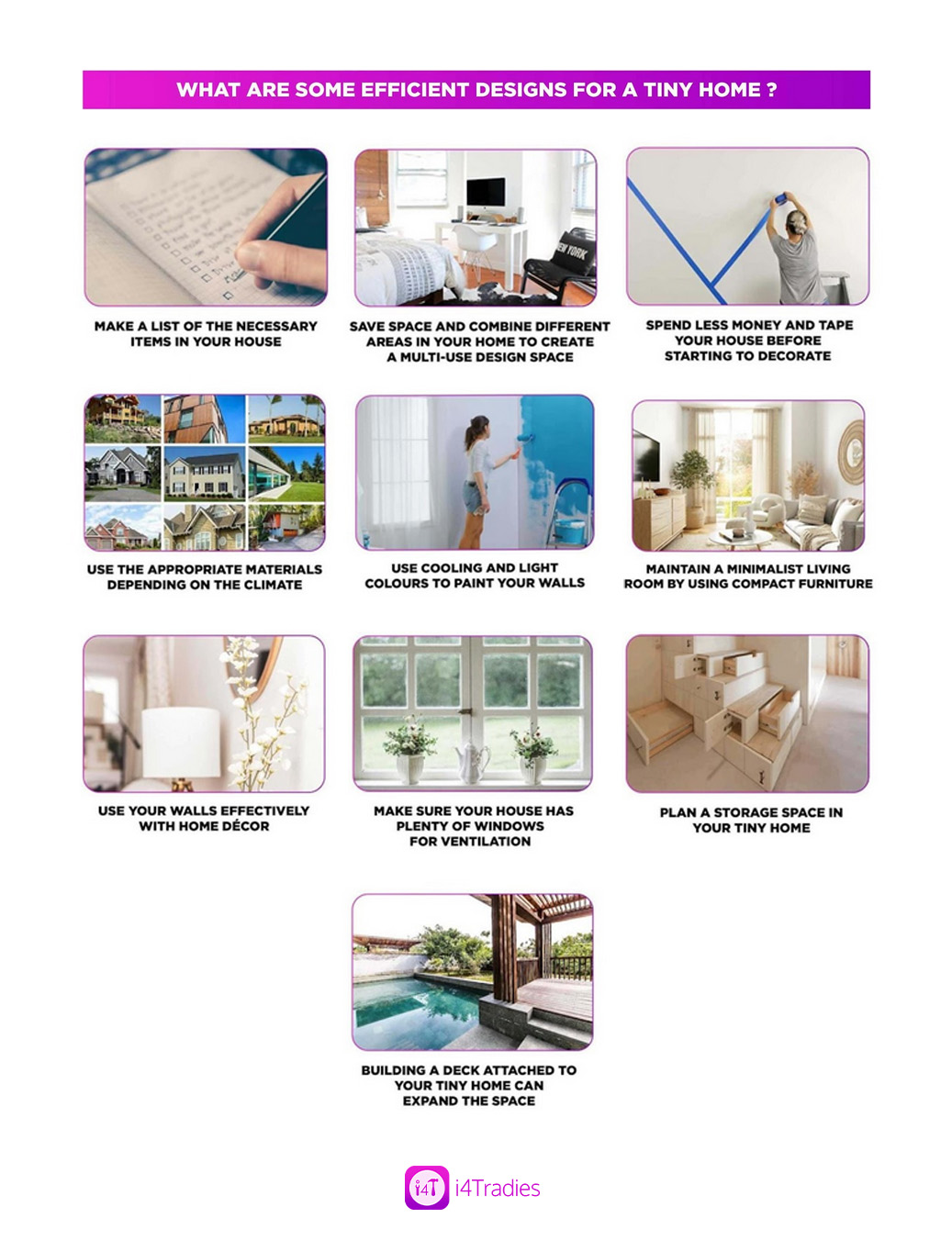 Make a list of the necessary items in your house.
Save space and combine different areas in your home to create a multi-use design space.
Spend less money and tape your house before starting to decorate.
Use the appropriate materials depending on the climate, the surrounding of your home and the type of your tiny home. (Tiny container homes, log cabins, standard wood homes, brick and wall houses, etc)
Use cooling and light colours to paint your walls.
Maintain a minimalist living room by using compact furniture.
Use your walls effectively with home décor.
Make sure your house has plenty of windows for ventilation.
Plan a storage space in your tiny home
Building a deck attached to your tiny home can expand the space and give a more unique look to your house.
How to select a paint that suits your decor idea?
With so many shades available to choose from, it can be a bit confusing to find the right paint that suits your decor idea. You can ask a professional decorator to help you choose the right paint for your walls, or you can use these tips to make a decision.
Create a colour scheme that goes with your furniture
Choose a finish that will give your walls an appealing visual look
Choose to pick colours that will affect your mood and the idea of the room.
Use safe colours such as white and other light nude shades.
Make sure to create a flow in your rooms with the colours
Colours can make a room look bigger or smaller. Use modern interior design techniques to
choose the colours wisely.
You can also play around by using two different colours for the same room.
What are the benefits of painting your home?
From increasing the value of your home to boosting the mood of your home décor, there are many benefits that you can get by painting your home with the right shade and colour.
A fresh coat of paint will help prevent any damages to your colour as well as keep your home looking fresh and new at all times. It helps improve the air quality in your house. A new paint look can help you modernise your interior and beautify your home and décor.
What are the costs of a home decor project
The costs of a home decor project can vary depending on the interior designer, the structure and other factors.
When you hire a professional interior designer to work on improving your home, there are 3 different types of interior designing costs.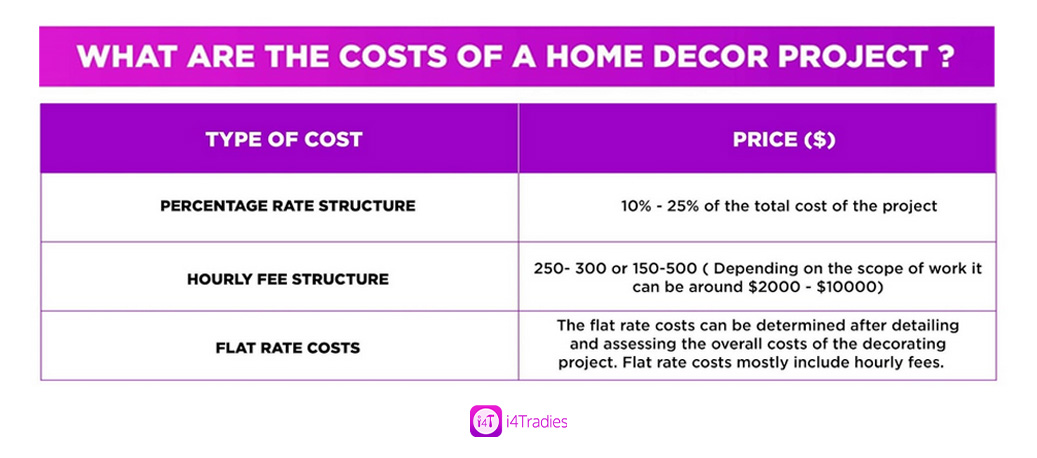 Most of the time, people spend around $1893- $11,180 on home décor in Australia which includes, consultations, design work, furnishing, and management of the project.
You can start budgeting your costs by choosing the necessary services to decorate your home.
DIY or professional help? The choice can be tough to make.
When can you try DIY for your home and décor project?
If the project is small: When you plan to change the look for one room, paint a wall or add some accessories to give a fresh look to your home improvements.


When you have the time – If you have the time to make multiple visits to the stores, shop for the necessary items and make an improvement plan you can try DIY with many ideas.


When you find joy in fixing things – DIY is the best hobby for people who are passionate about fixing the small things in their home. Whether it is adding a new picture frame, or doing some simple repairs, you can do it yourself with some tutorials.


If you are okay with "Good enough'' – If you don't have the budget to go do a professional do-over for your home décor, you can just DIY. Use modern interior design ideas to make the space beautiful and remember to start with a small DIY project.
When can you use the help of a professional?
By now, you might have already collected some inspiration regarding painting and home decor ideas in Australia. Now, it's time to hire a professional to get those ideas kicking!
You can use professional help:
When the job is big and you cannot afford to make mistakes – You can choose to work with a professional to make major repairs and renovations such as adding a new wall or changing the entire interior of your house.


Use a professional for electrical and structural works and other major work you have planned for renovating your house. Some of these works will need a permit and a licensed professional can help you with it.


Consult a professional interior designer when you have less time to create your own home improvement plan.


It is best to use the help of a professional when you decide to sell your house in the market. The professionals will know exactly what to do with your budget and plan.