You will find many modern houses to buy in the real estate market which will be intriguing. However,
On the other hand, planning to start an old house renovation can be cost-effective, that is if you want to change only some aspects of your property.
In this article, we will weigh the pros and cons of buying new homes vs renovating, to help you make the right choice for yourself and your property.
Read more : Started Building Your Home? Everything To Know In 2022
Before we can get deep there are a few questions that you need to ask yourself to determine which option is best and cheaper. Here are some factors to consider before making any big changes.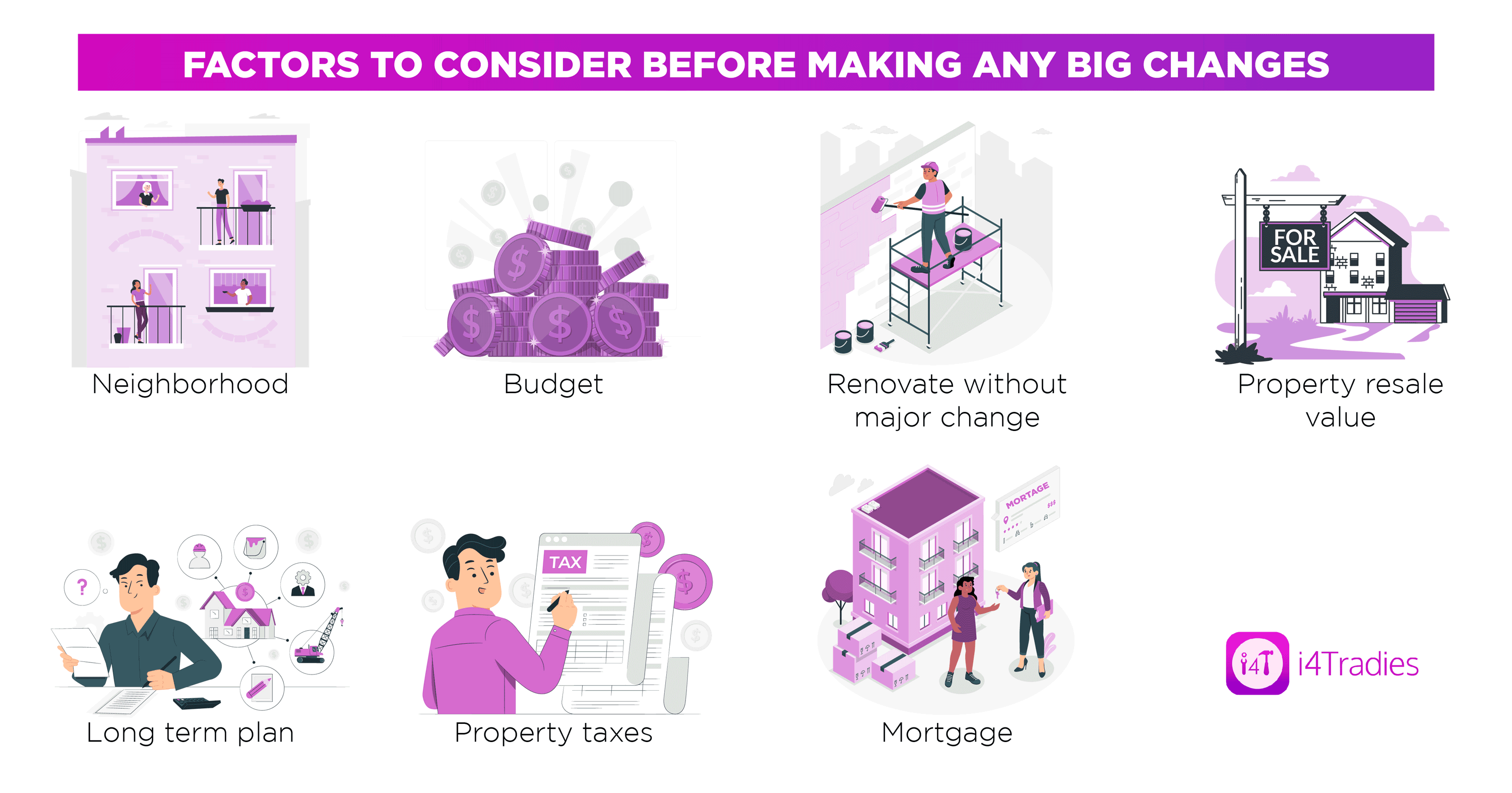 Neighborhood – If you are fond of the neighborhood you are living in, you can either stay in the same location or start looking for a new home in the same neighborhood. 
Budget- Whether you decide to buy a home or renovate, you need to draw up a budget that will suit your means. Depending on the cities the price to purchase a new home varies. If the location has affordable prices to buy a home then create a suitable budget and make an offer. However, if the prices are too expensive then in that case, renovating is cheaper than moving to a new house.
Renovate without major change – If you have the option to renovate your home without drastically changing the structural elements, then it will cost you less in comparison to buying a home.
Property resale value– Some homeowners consider the process and plan for an old house renovation in hopes of increasing the home's value. Remodeling and changes can be a plus for your property's value or it can be an exaggerated expense on your account. It is best to consult an expert before you make the decision.
Long term plan – Considering the long term plan for your property, you can decide whether it is best to renovate or move out. Your long term plans can include a new job at a new location or if you are living in a small space and expecting to expand your family then moving out to a new house is a better option than renovating.
Property taxes – Moving to a new home can affect your property taxes depending on the country. It can increase or decrease, so it is better that you check with a real estate agent before you make a move. That way you will not be paying extra taxes if you decide to move.
Mortgage– Depending on the market conditions, your mortgage can be lower than what you pay or you can get the same mortgage value when you move. You can take a look at the best deals and consult a real estate expert before you decide.
What are the pros and cons of buying a new home
Before you move, you need to sell, rent or lease your property. 
There are plenty of houses to buy, you can start searching for the most suitable and affordable property with a real estate agent who will help you simplify the process.
A new beginning –

Whether you move in the same neighbourhood or choose to move across cities, when you buy a home you get the opportunity to start over. It is a new place, a new lifestyle, and a chance to meet new people.

You can also get new amenities that were not available in your previous location.

Finances-

Purchasing a home the second or third time is easier for you when you are familiar with the paperwork and the process. With the help of an agent, you can get your title, insurance, taxes and find a lender to buy the home.

Taxes-

Each city or state has its laws on property taxes and income tax. Depending on the location you are moving to, you can get some benefits without any added taxes.

Avoid living in a construction zone

– When you decide to move to a new home rather than renovating, you can avoid the annoyance of living in a construction zone for a long period.
Costs

– When you decide to buy a new house, there are many costs involved including real estate agent's fees and other fees that will clear the process and paperwork. It can be complicated and expensive.

Hassle of moving

– Nobody likes packing and moving from one place to another. Even though the excitement of buying a new place exists, the process of moving can be problematic and stressful if you have to set a time to sort, declutter, and get everything done in a short period.
What are the pros and cons of renovating
Upgrading your home and giving it a new look is an investment that will help you in the long term. You can create new spaces and work towards creating a comfortable, ideal and exciting environment for you to live in. With a set budget, you can plan an old house renovation that will change the perspective of your home and give you a better experience.
Cost– In comparison to buying a new house, renovating is less costly for you if you are considering renovating a room or a certain area inside the house. You have the option to choose each room and renovate at a set budget rather than having to beat the whole-house renovation cost all at once. You can customize or DIY and save money in various other ways.
Read more : Dear DIY Enthusiasts – From Your Tradie, With Love.
Adding your touch – One of the best advantages of renovating your home is the chance to add your touch to the deco and interior. You can change the existing design according to your desires and expectations. When compared to buying a new house, you can save a lot of money by upgrading and updating your existing home rather than buying an expensive property and adding your style.
A chance to stay put – Renovating your house will allow you to stay put in the same place you have been living for many years.
Not suitable for a revamp – If your home is old and needs a complete makeover, then it is not worth spending thousands on renovating the property. Remodelling can cost you a lot in comparison to buying a new house. Old homes with major structural changes are not worth the investment even if you mean to downsize. 
Finances– Planning to get a house renovated comes with a long expensive bill. Some homeowners try to get loans to renovate. This can be hard if you have not lived in the property for a long time.
In the present day, with COVID-19 affecting the demand and supply of materials and other factors, it can be hectic to get a great deal.
Construction chaos – It can be stressful to live in your house when the construction begins. If you plan to renovate room by room it can get stressful for you.
Over capitalising– When you start your renovation project, you can get carried away and spend more than what you have planned. You can end up overcapitalising your home.
How to choose the best idea that suits you
Aside from the pros and cons of renovating and buying a home, there are 3 main aspects that you need to decide. Aligning your financial objectives with your plans can help you make decisions that will be more sensible and favourable to you.
Cost
Whether you plan to buy a new home or renovate your existing property, you will incur costs. Let's take a look at the costs that will make your dream come true.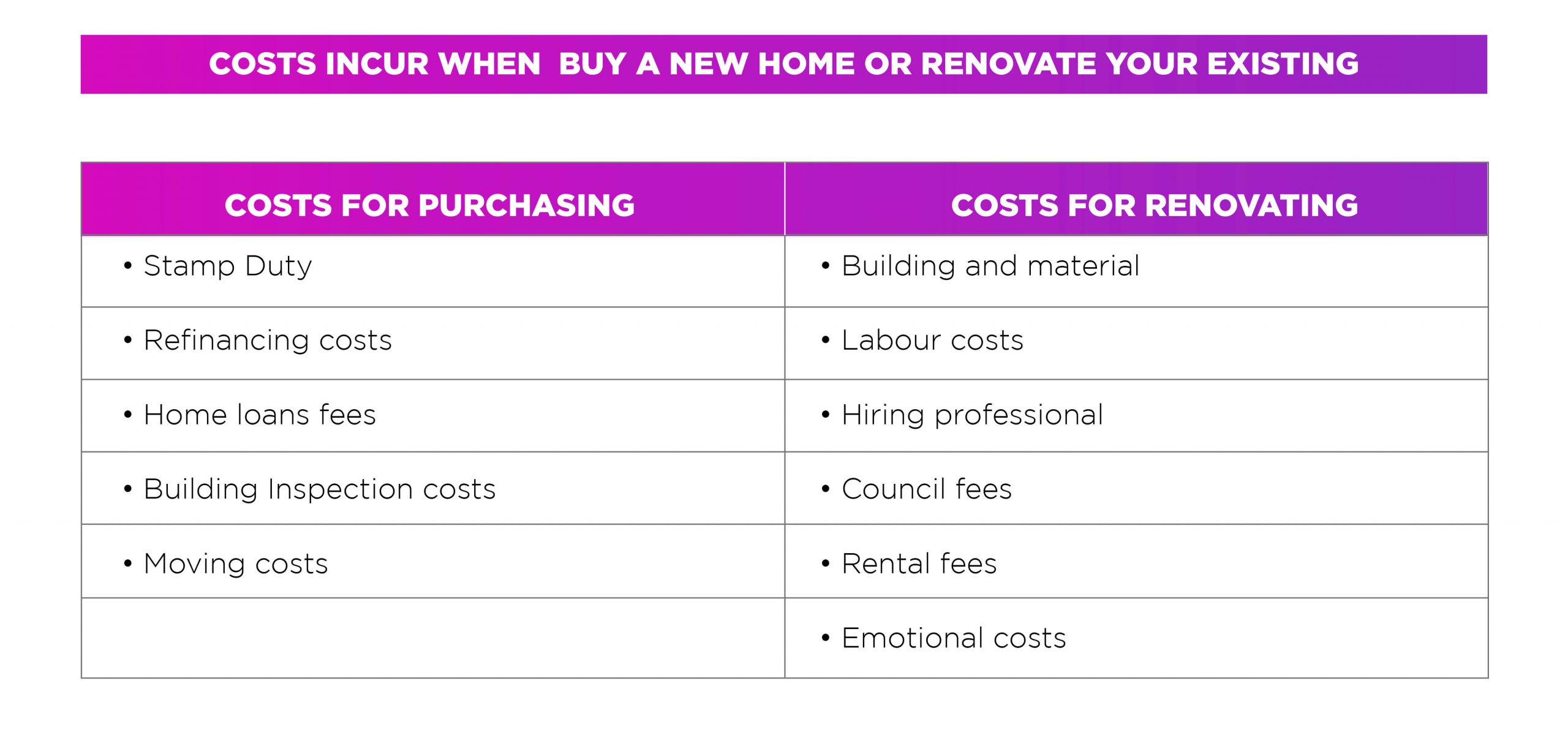 Costs for purchasing
 

Stamp Duty

 

Refinancing costs

 

Home loans fees

 

Building Inspection costs

 

Moving costs
Costs for renovating
 

Building and material

 

Labour costs

 

Hiring professional

 

Council fees

 

Rental fees

 

Emotional costs
Time
The duration of the project needs to be assessed before continuing with the constructional activities and moving. Depending on the scope of the renovation and the time needed to move into the new home the duration will vary.
The duration for house renovating 
Compared to constructing a building and finding a new home, the duration to renovate a home is quicker. Especially if you are focusing on renovating one or two rooms on the property.
However, there are some instances where renovations take more than the usual amount of time. If you own a heritage property or an old house then the estimated time to renovate will be longer, mainly if there are any harmful materials to mitigate.
You need to consider other factors such as conducting the operations safely while utilising the property and the development process. You can work closely with a professional construction team and get the project done.
The duration to move into a new house
Finding the best property that suits your needs and requirements can be challenging if you do not have exposure to the real estate industry. You can find a home in weeks, months or even years. The duration to find the right home is based on factors such as the geographical location, the space requirement and the budget, it can take quite a while to find a home and move.
However, if you plan on constructing a new home and starting over then it can take a sheer amount of work due to the project duration, renovation and execution period.
Laws
Certain extensive renovations planned in your home will require permits. Major renovation changes such as altering the footprint of your home, adding decks, fences, changing the plumbing or electric work will require a permit.
It can be expensive, time-consuming and frustrating when you have renovations plans set up. However, the construction crew that you hire must obtain local permits from municipalities.
It is easy to invest and buy a home in Australia, compared to other countries. For both local and foreign investors, the laws are simple, protected and effective when purchasing a house.
When planning to buy a house you don't have to set up a business or buy it with a citizen.

You can hire a mortgage broker to assist you with the purchase.

The National Consumer Credit Protection Act 2009 (NCCP Act) is an effective consumer protection legislation.

There is less political, social and economical instability in the country, which makes it much simpler to buy a home.
What is the difference between buying and renovating
In definition, to buy a home you need to search for properties in the real estate market, create a budget, talk to a real estate agent, make an offer and proceed from there onwards. The process of buying a property involves many steps.
On the other hand, renovations can be DIYs or you can do it by hiring a professional to help you with the plans. The main difference between buying and renovating is the cost! You need to analyse whether it is cost-effective or not.
By considering the many factors mentioned above, you can decide between the two. One day you might want to move to a new property, or you might be surprised by how renovations can change the look of your existing home.
Hiring a professional is the best idea
Is renovating a better option or buying a new house? The best decision that you can make as a homeowner is to hire a professional to help you.
Regardless of your choice, you need to get the finances, budgets, paperwork and work with professionals to help you proceed. The experts in the field can assist you in the right direction. Depending from person to person, it is nonetheless a new change that you need to adapt to and evolve with.
Some of the benefits of hiring a professional include:

Professional insights

Help with financing and budgeting

Getting great deals in the market

Getting help with mortgage