So let us talk about bathrooms!
Have you ever felt uneasy when a visitor asks "can I use your bathroom?". Not because it's unclean, but because of the old and faded fixtures in it. A complete glam-loss in comparison to the rest of the rooms in your home?
Keep embarrassing moments as such at bay and remodel your bathroom in a simple yet elegant and inviting manner.  It's time to show off.
Why bathroom renovation is important?
 If you are not happy with the way things are presently or if it's been many years since your bathroom was last renovated and it has outdated designs & fixtures or if you feel that a lot of repairs are on its way to cost your pocket, it's time to renovate your bathroom!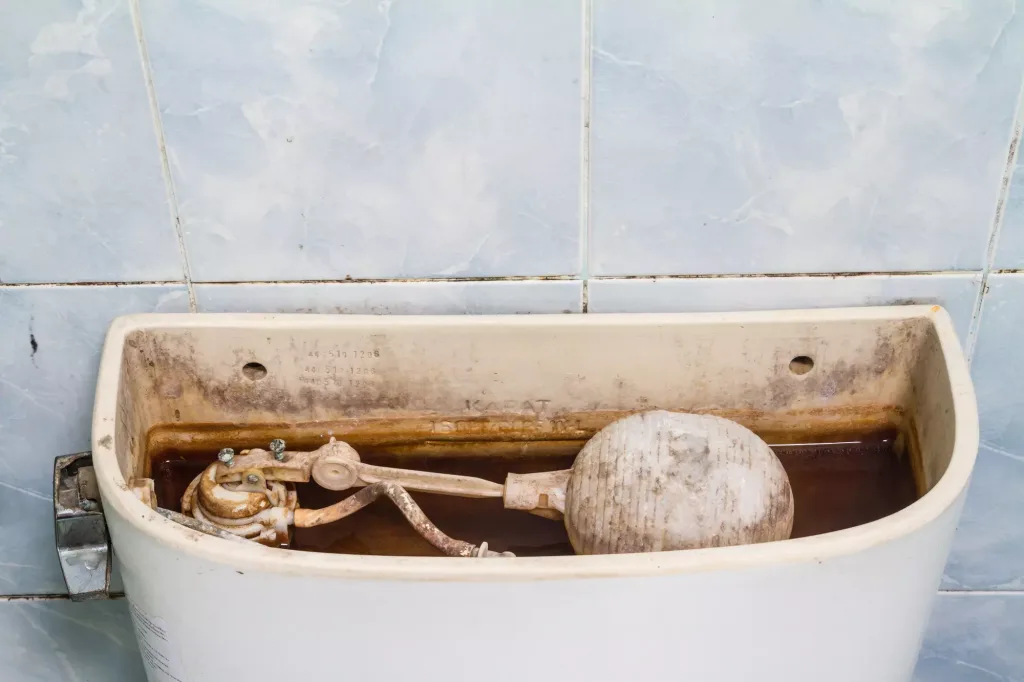 A new bathroom adds value to your home and is a great investment. A home experiences wear & tear all the time and your bathroom is no exception. In fact bathrooms experience it all the more because of the high moisture levels. It's always good to have a bathroom in good condition. 
Your family's safety is important. An old bathroom may have broken or slippery tiles. A damaged & a rustic water-heater, damp walls, old power outlets which are totally unsuitable to plugin your modern gear such as your new hairdryer or shaver. Various plumbing issues. Bathroom renovation rectifies all these issues and many more. 
An energy efficient and environment friendly bathroom saves money & adds more value. Remodelling your bathroom will allow you to replace old and inefficient fixtures & fittings.
Adopt more attractive & modern interior designs to enjoy your bathroom. Choose light or neural colors & textures which soothes & relaxes you. Bathroom is your peaceful oasis. Perfect colour schemes do wonders to make the room look spacious and lead the way for an inviting atmosphere.
Adding more storage space allows you to avoid clutter. Avoid the messy & the unattractive which can be a source of stress.
Bathroom talk is powerful. So let's create a space which is elegant, unique and functional.
When should you renovate a bathroom?
Ideally a bathroom should be re-modeled every four to five years. 
It's within this period where colors fade and fixtures begin to show problems and usually will be the time where you get bored of using the same old. 
Up-scaling is a great idea to add more appeal!
Did you know that remodeling a bathroom adds twice as much value than a newly refurbished bedroom? 
Let's plan your Bathroom renovation with attention to every single detail
Draw a clear plan (Purchase all material early during the process. Do not rush) 

Set a realistic budget 

Set a realistic schedule

Focus on quality (Choose the right material even if a bit expensive)
Let us make practical improvements to your bathroom and add more value aesthetically
Draw a clear plan (Purchase all material early during the process. Do not rush) 

Set a realistic budget 

Set a realistic schedule

Focus on quality (Choose the right material even if a bit expensive)
A bathroom is a container of moisture and humidity. Insufficient ventilation may lead to mildew and bad odor. Hence a window or a fanlight can do wonders letting in ample fresh air and letting out the musty air. 
Natural light can help keep the bathroom dry plus you won't need to use any lights during daytime, yet another energy saver.
A bathroom shouldn't be dark and dingy. Have you ever found it difficult to read a label of a bottle or used conditioner instead of shampoo or pointed out gray hair you've never seen yourself? Which is why proper lighting in bathrooms is important. Right lighting also helps lighten your mood too. 
Choose "daylight", "bright white" or "cool white" LED light bulbs which will give you plenty of light minimizing the cast of shadows. Get advice from your Electrician and choose the ideal locations (bath area, vanity area, each side of the mirror etc;) to fix the right type of task or sconce lighting.
 "Mirror mirror on the wall…."  mirrors do great justice to show your perfect reflection and they play a major role to spread light as well. Having a few nicely shaped mirrors in the correct positions would showcase style and aid good light.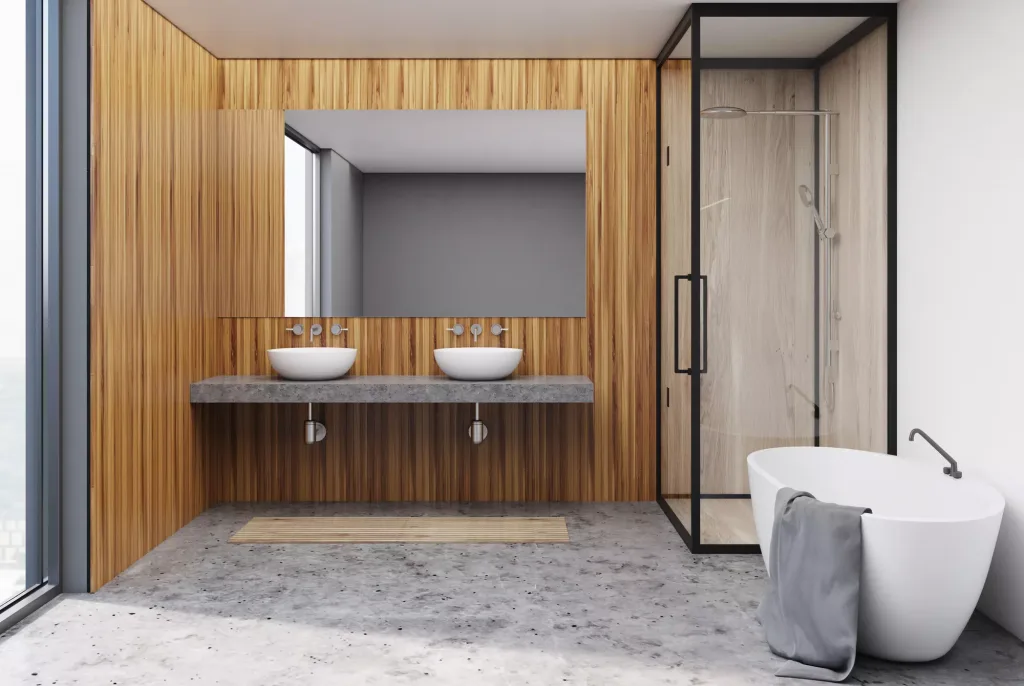 Choose the right colour scheme. "White" is a great choice but any light colour could make your bathroom look spacious and also brighten the ambiance adding warmth.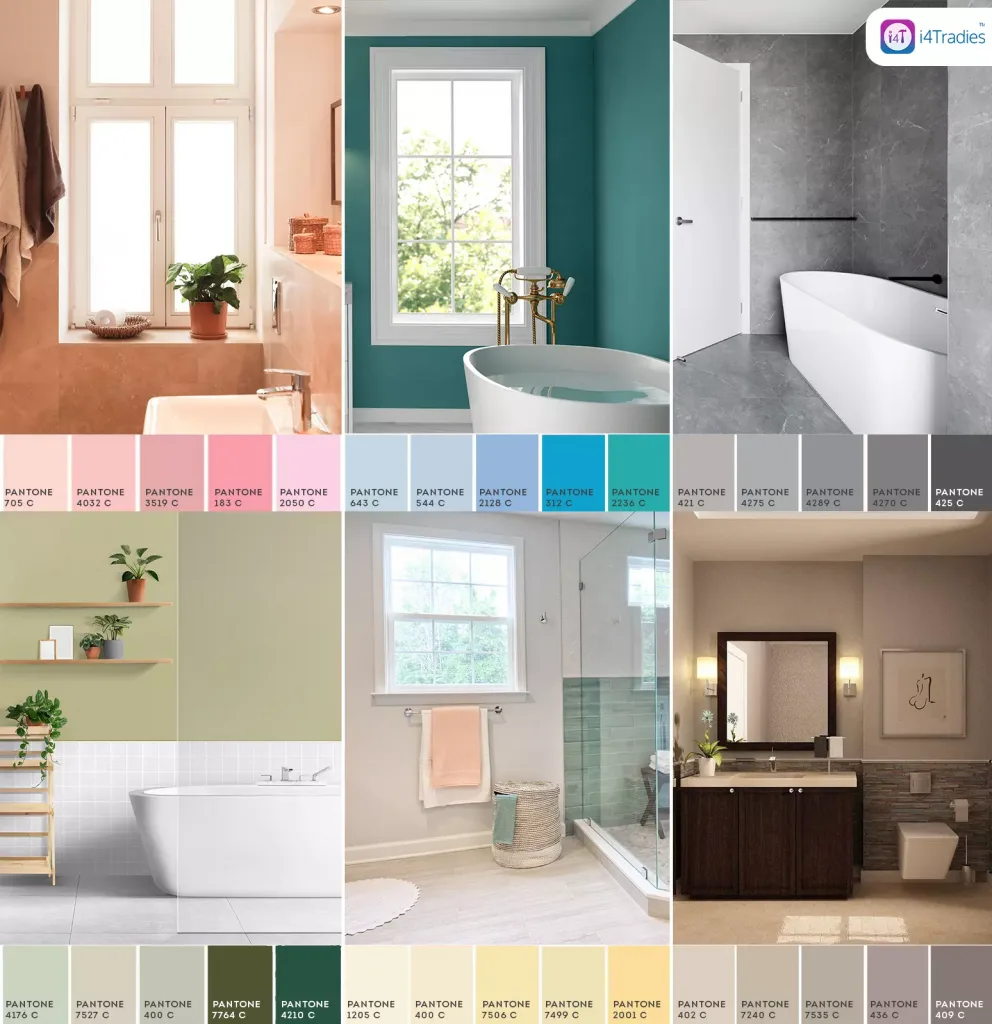 Choose a tile which is not glossy and easy to clean. Use grouts to withstand mold, stains and moisture. It's best to use small textured tiles for the shower floor. Apart from adding style the additional grouting will help you avoid a slippery floor.
 Make sure that the tone of your wall tile goes in par with your floor tile and the rest of the fixtures. You may wonder and opt for an elegant white or plump for bold and the beautiful. The choice is yours.
Matching toilet fixtures & fittings
 While White is elegant, who says gemstone and magnificent glass sinks are not? Ensure that the fixtures & fittings compliment one another. To save more space, choose a hidden commode tank and smaller tubs or floating sinks. They look glamorous and modern.
 Make sure to add enough storage. A few shelves to easily reach your favorites, a few cabinets and drawers to stack your essential equipment and towels and what not. 
 Ever had the misfortune of plugging-in your hair-dryer or shaver in your bedroom and dragging it and yourself to the bathroom, standing on tiptoes to get a good look at the mirror as the wire isn't long enough? That's why we say to have multiple power outlets to suit your needs. 
Don't forget to call an Electrician to install your water-heater. There are a lot of modern water-heaters which comply with upgraded safety standards, easy to install with pretty much less wiring and easy to use. So it's safe not to save a few bucks but purchase anew. 
 Knowing how hard it is to wake-up to a cold and frosty morning and drag yourself out of the comfort of your bed to an even colder bathroom can be agony. Not anymore with heated flooring. 
It may be a bit expensive to install but is a cost effective solution which rarely requires maintenance. If you have planned to remodel your bathroom, it's wise to consider heated flooring which will be great on energy saving and also will up the notch of your comfort level.
We love to accessorise. But keep in mind to do it wisely and avoid necessary clutter. A small stool, a few magazines or a vintage rug would be nice. However make sure that the accessories match with the rest of the theme.
 The right choice of indoor plants would undoubtedly liven the bathroom space. Ferns, bamboo are great choices but having a few potted plants with flowers would add a touch of welcome and naturally make you happy.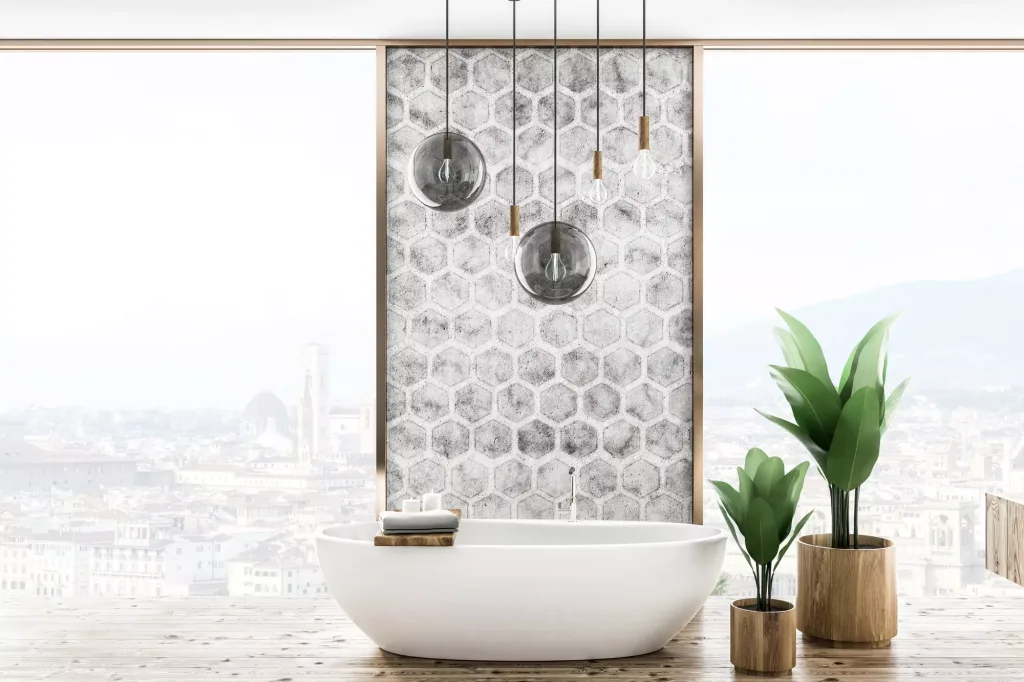 Tip: A bathroom should have ample light and space. It's good to flip on magazines and copy a few latest and modern designs but inject personality not trends.
Can you live in your house during a Bathroom renovation?
Yes! Take a deep breath, make yourself a mug of hot chocolate, relax and plan. Create temporary space. Get a little help from your friends. 
Discuss with your Tradie on the approximate lead-time to complete the job and always stick to the plan.
How long will bathroom remodelling take?
Approximately 6 to 8 weeks to
Develop a design

Selecting & purchasing material 

Selecting the Tradie of your choice. Obtaining a quote, discussing and making all matters clear 

Actual construction 

Unforeseen events
Bathroom renovation cost & budget
Tip: It's best to keep a 10% buffer for any unexpected costs and surprises. You never know what might come your way.
Major costs for bathroom renovation includes:
Plumbing

Tiling 

Lighting and other electrical work

Waterproofing and painting 

Toilet fittings and fixtures 

Carpentry work
The cost for bathroom renovation depends on
The size of the bathroom 

Materials you choose 

Fittings you choose 

Structural work

Transportation charges (for material, etc.;)

Service charges of Tradies 

Permits (if required)
Below is a cost guide to grasp an idea:

| | |
| --- | --- |
| Cost | Bathroom Renovation Type |
| $5,000 – $15,000 | Small bathroom |
| $15,000 – $25,000 | Medium sized bathroom |
| $25,000+ | Larger / luxury bathroom |
Hire a Tradie for your bathroom remodelling?
When it comes to choosing a contractor or a Tradie, select who is qualified and right for the job. 
Always check if they are :
Licensed

Insured 

Always discuss with them on :

The lead-time to complete the job

The quotation 
Remember that communication is the KEY and your Tradie needs to be made very clear of your requirements.
Tip: Don't let the work of finding a good Tradie dampen your mood! Try i4Tradies , it's free and it's user friendly. Choose from thousands of local Tradies, check their credentials and reviews by other consumers. Its so easy and hassle free.
See: i4Tradies Features
So let's get started on remodelling your bathroom as you deserve. Happy re-modelling!