The birth of a baby is one of the most precious moments in our lives. As parents, you must make the necessary arrangements to welcome your lovely baby into your home. Creating a perfect baby room is one such crucial decision.
This room is important since your baby would grow in this room So you would have to make it as comfortable as possible for the baby and yourself. Therefore this article will list ten crucial tips that you must consider when designing your baby's room.
1. Choosing a suitable color for the room
Colors have a secret way of communicating with our minds and changing our moods. Likewise, it can also affect the baby. Choosing pink for girls and blue for boys is the old school system.
While it is ok to follow up with the old system, there is also a new trend of choosing gender-neutral colors and designs. Most new parents choose yellow, green, or even gray colors when painting the nursery's walls.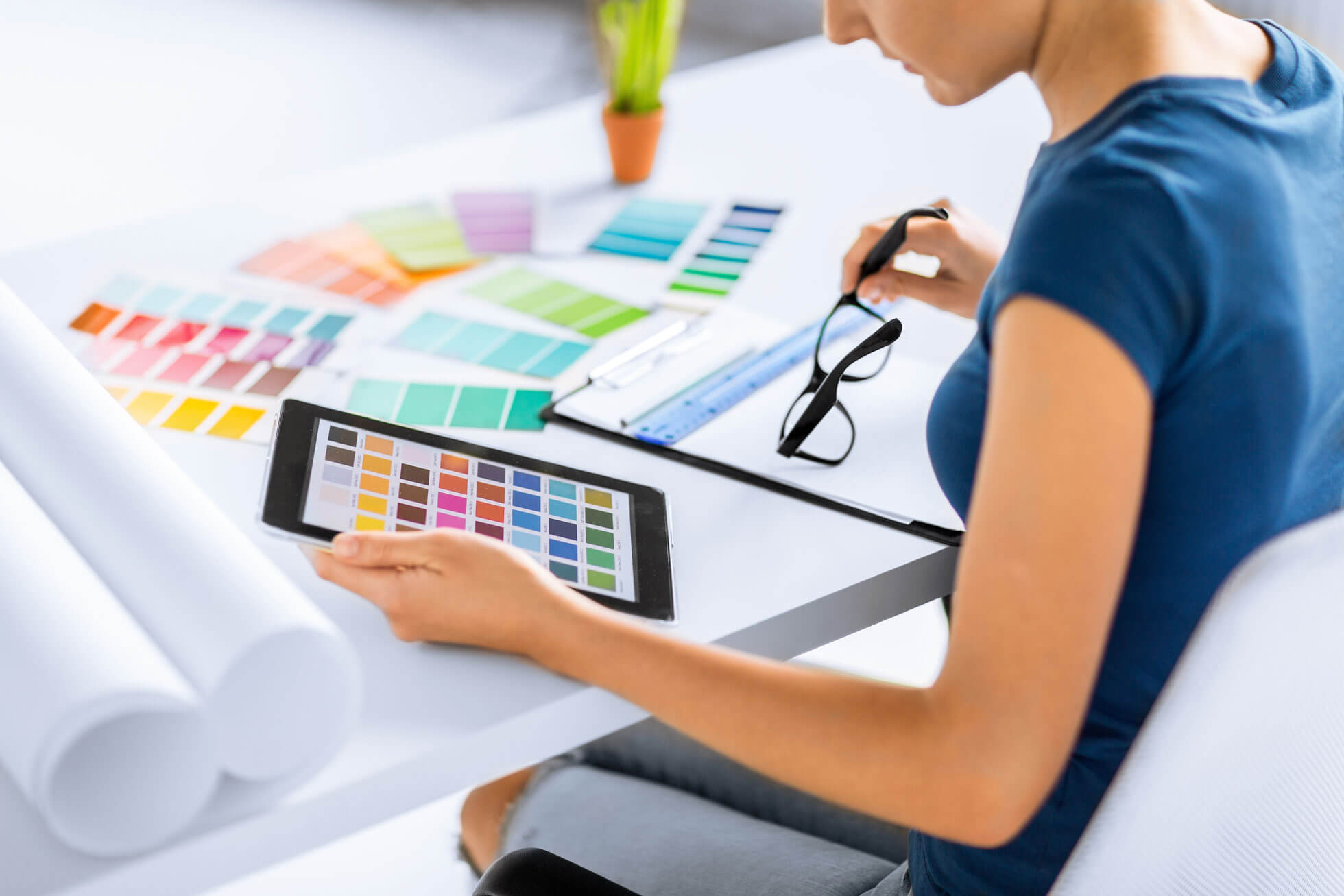 These colors must be calming. Therefore it is ideal that the colors are not too bright or even too dark. When you pick a paint, make sure that it can be washed and cleaned easily.
2. Washable wallpaper is ideal.
If you are not a fan of paints, then you can go for beautiful wallpapers. You can choose a suitable wallpaper design that is calming to watch. Don't get wallpapers with overcrowded designs. They should be peaceful and soothing.
Most of the wallpapers in the market today are washable. The reason for mentioning buying a washable paper is because babies' pee lines could be cleaned off easily in the washable paper.
A baby will remain in a crib only for a limited period of his/her baby-years. Therefore don't buy an oversized crib which could make the room overcrowded. Even if you have a bigger room, you don't have to make the crib bigger.
A mini crib will save so much space in the room, and it is much easier to move it into a different room if you want.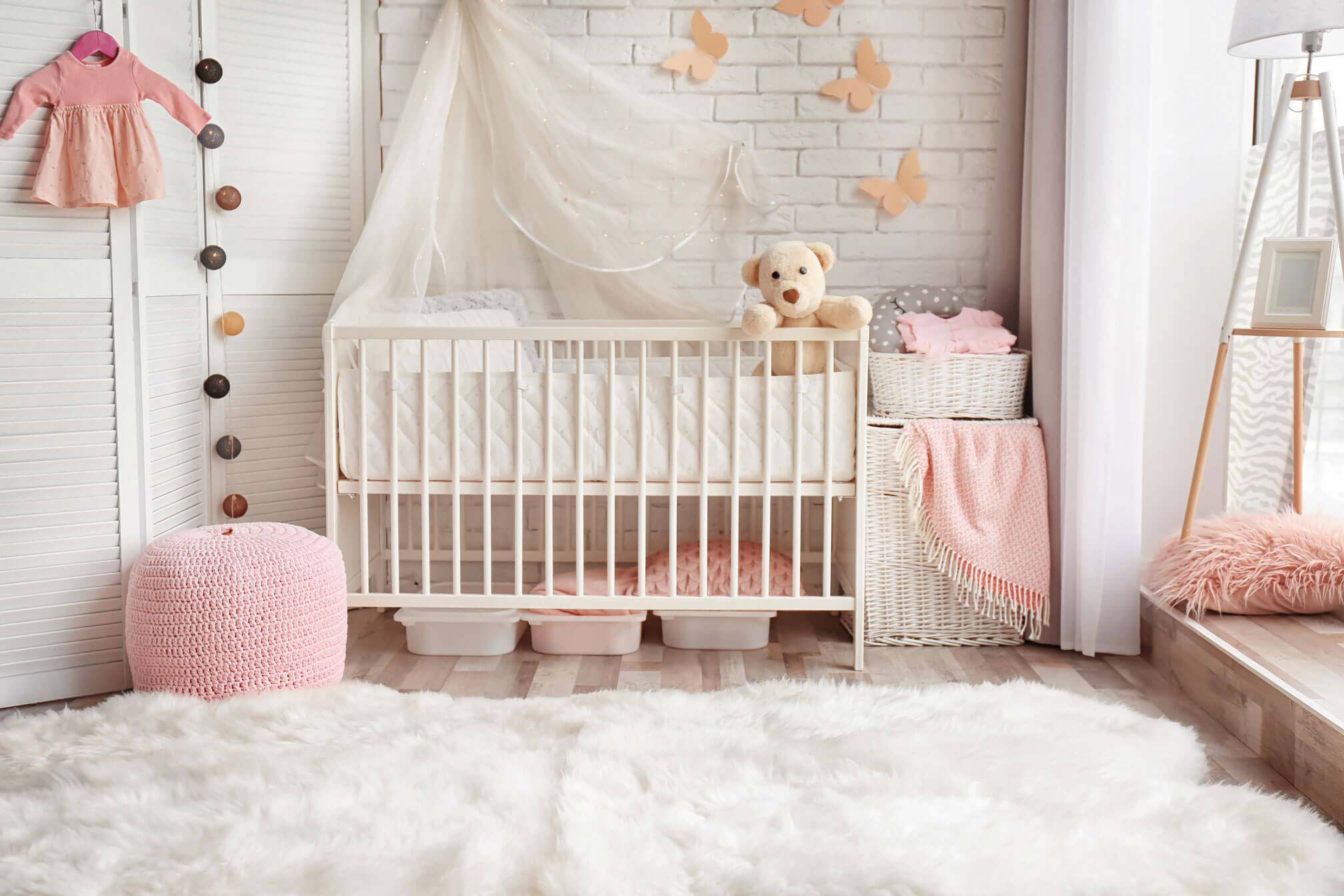 The baby doesn't need much of a space. However, they should feel comfortable in the crib. Therefore when choosing a crib, make sure that it is comfortable and safe to leave the baby.
4. Ability to cancel light and sound
A newborn baby needs to sleep for more than 14 hours a day. Therefore you have to get the baby into a sleeping routine. You have to take the necessary measures to block the light and sound, which could disturb the baby's sleep.
You can use thick curtains for the windows, which prevent sunlight from falling into the room. Adjust the lighting in the room by fixing dimmers and other suitable lighting options.
The room should not be completely soundproof. However, there should be some control over the amount of sound entering the room. Give this some thought when designing the new room.
5. Keep a comfortable nursing chair.
A baby must be nursed very often by the mother within a given day. Therefore there must be a comfortable chair in the room where the mother can nurse the baby when necessary.
It is ideal if the chair is cushioned and has an armrest. It would be more comfortable for the mother if the backrest could be adjusted so she can lay back and rest while nursing the baby.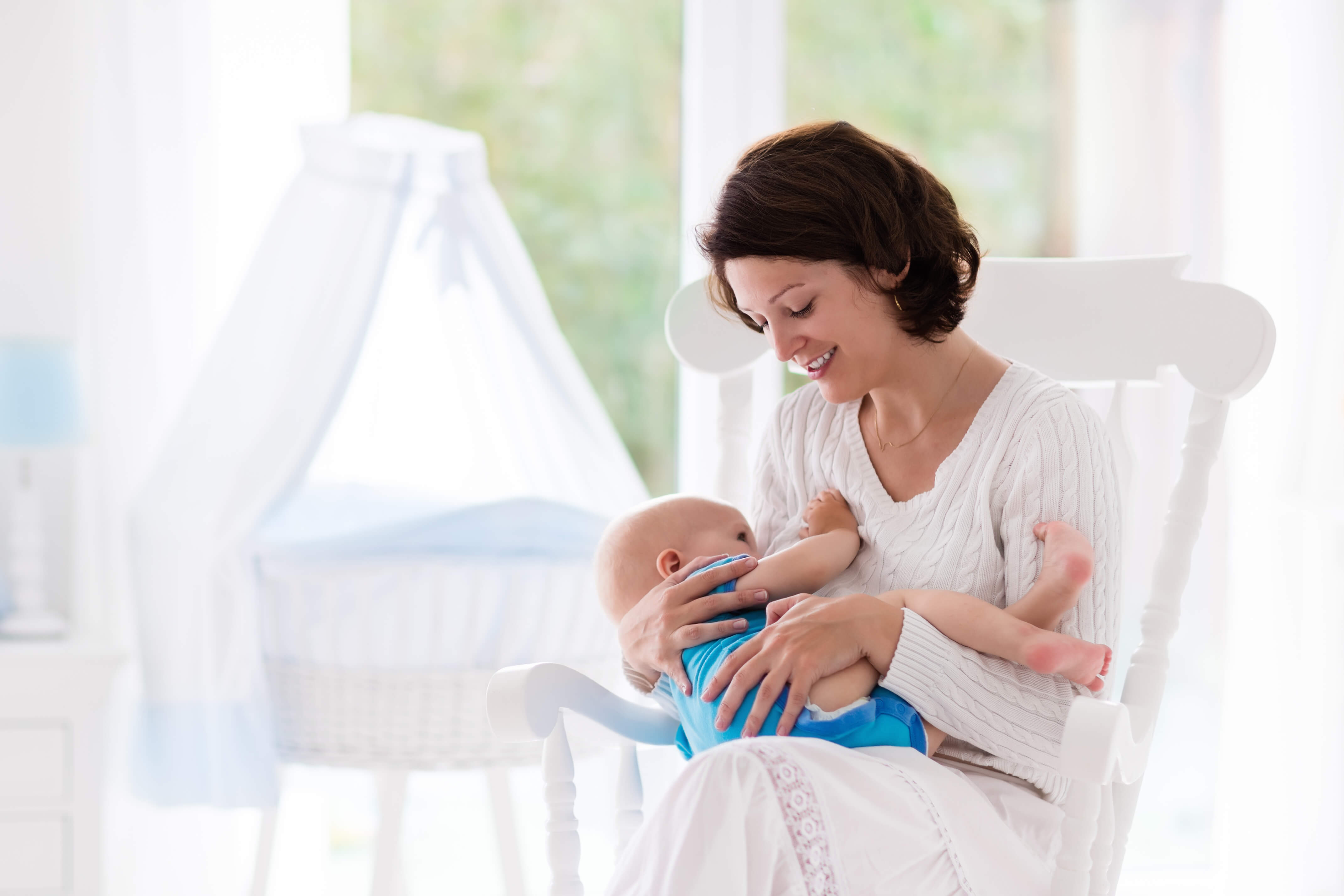 A leg rest kept near the chair to stretch out the legs would help the mother feel more comfortable. A rocking chair would also be ideal for a nursing room.
6. Choose your flooring wisely.
A baby's room should be squeaky clean so that the baby can be healthy. Therefore, when choosing floorings for the room, make sure to pick an option that is easy to clean, disinfect, and doesn't accumulate more dirt.
If you choose a carpet, more dirt will get stuck in it. Therefore you would have to vacuum it every now and then, which could affect the baby's sleep. Carpets can also be difficult to disinfect.
However, if you choose tiles or hardwood flooring, it would be easier to clean and disinfect. This would help to keep the baby healthy.
7. The ceiling should be interesting.
When the baby is placed in the crib, he/she will be staring at the ceiling. Therefore the ceiling should be interesting to watch.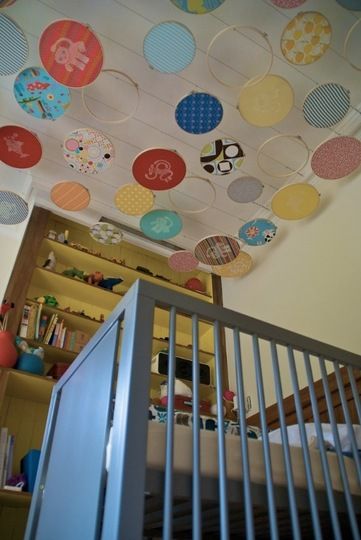 There are various beautiful and colorful ceiling designs that you could use in the baby room. It can depict a fairy tale, a beautiful sky, cartoon animals, etc. The key takeaway is that the ceiling would be interesting for the baby if it is beautiful and colorful.
8. Avoid obstacles in the room.
When you have a newborn baby, you must visit the nursing room often. You might have to go in there even in the dark.
Therefore it is better to minimize the clutter in the room so that you don't knock your leg while moving in the dark. These clutters could hurt you, and the noises would affect the baby's sleep.
Babies love to look at colorful things. They would help to keep the babies calm and relaxed. This is where art would be useful.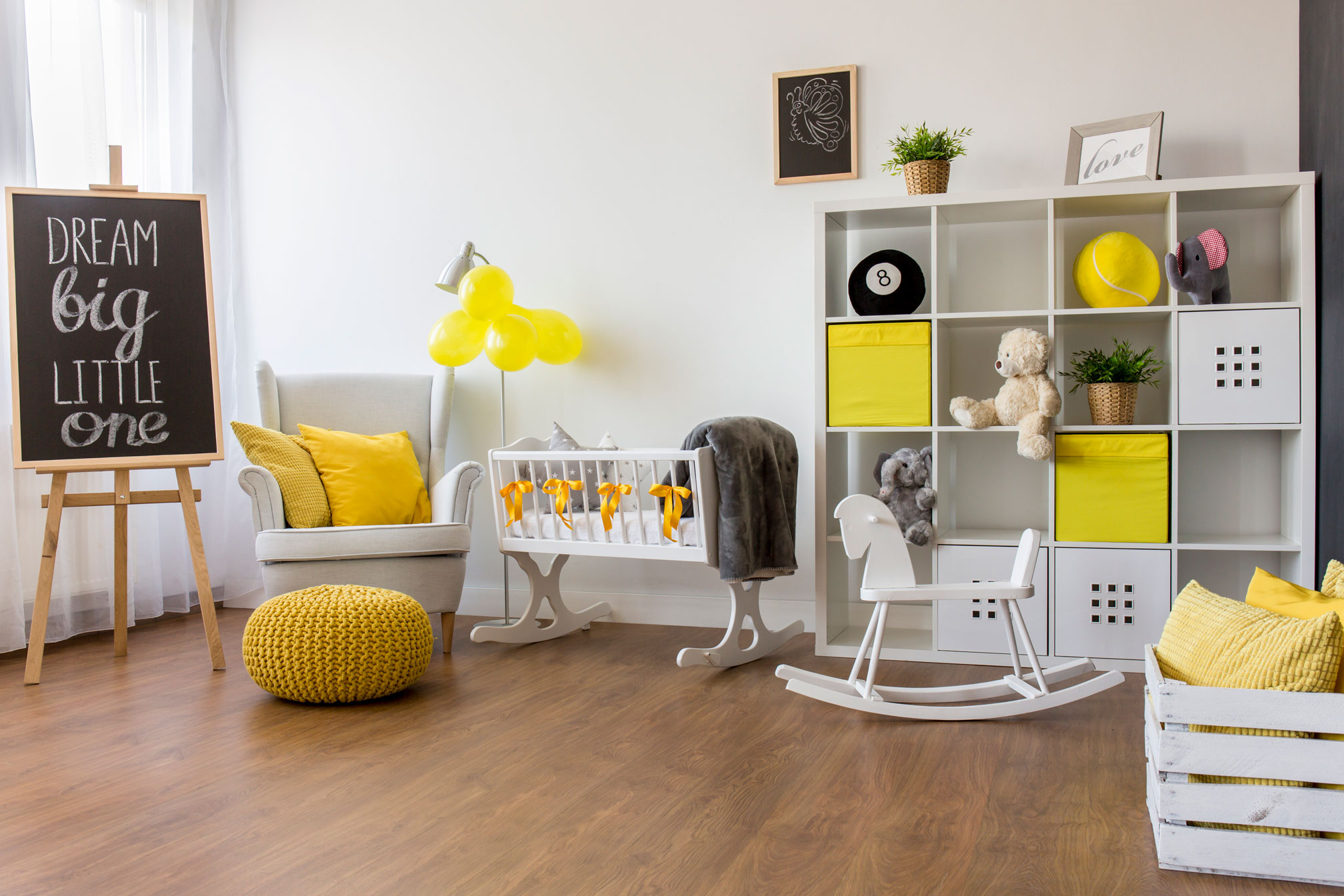 When we say art, we don't mean professional paintings. We are talking about babyish pictures and art that are colorful and cute. They should be hung on the wall so the baby will notice them when you carry him/her around.
10. Note that the room should grow with the baby.
You should always keep in mind that your baby will not stay a baby all the time. Your baby would be crawling and running around the house in no time.
Therefore you should keep the designs of the room flexible as possible so that they can be adjusted according to the changes in the baby's childhood stages. Choosing ageless draperies, art, furniture, and lighting could help to achieve this.
Do you need professional help?
The baby's room should be a lovely place so that the baby can rest and grow comfortably. It should not be crowded and should have a calming appearance.
As a loving parent, you are trying to provide the best care for your baby. That is why you plan to design a lovely room for the baby.
So if you want professional help to design the baby's room, then we have listed various tradies on our website whom you could hire. Visit our website today to get competitive quotes for your job and hire the most suitable professional for it.