A kitchen is one of the most important sections of your home. It should be clean and appealing. Old kitchen styles are out of trend these days and most people follow modern designs when renovating their old kitchen.
It can be both interesting and stressful to come up with new ideas by yourself to renovate your old kitchen. Therefore, this article will list some of the modern trends you could consider when renovating the kitchen.
A kitchen separated from the rest of the house is out of trend now. A closed kitchen would give a visual effect of a smaller space, which could be stressful for the users.
The modern trend is an open kitchen that connects with the rest of the house. An open kitchen is an ideal place to connect with the rest of the people in the house, even while cooking a meal.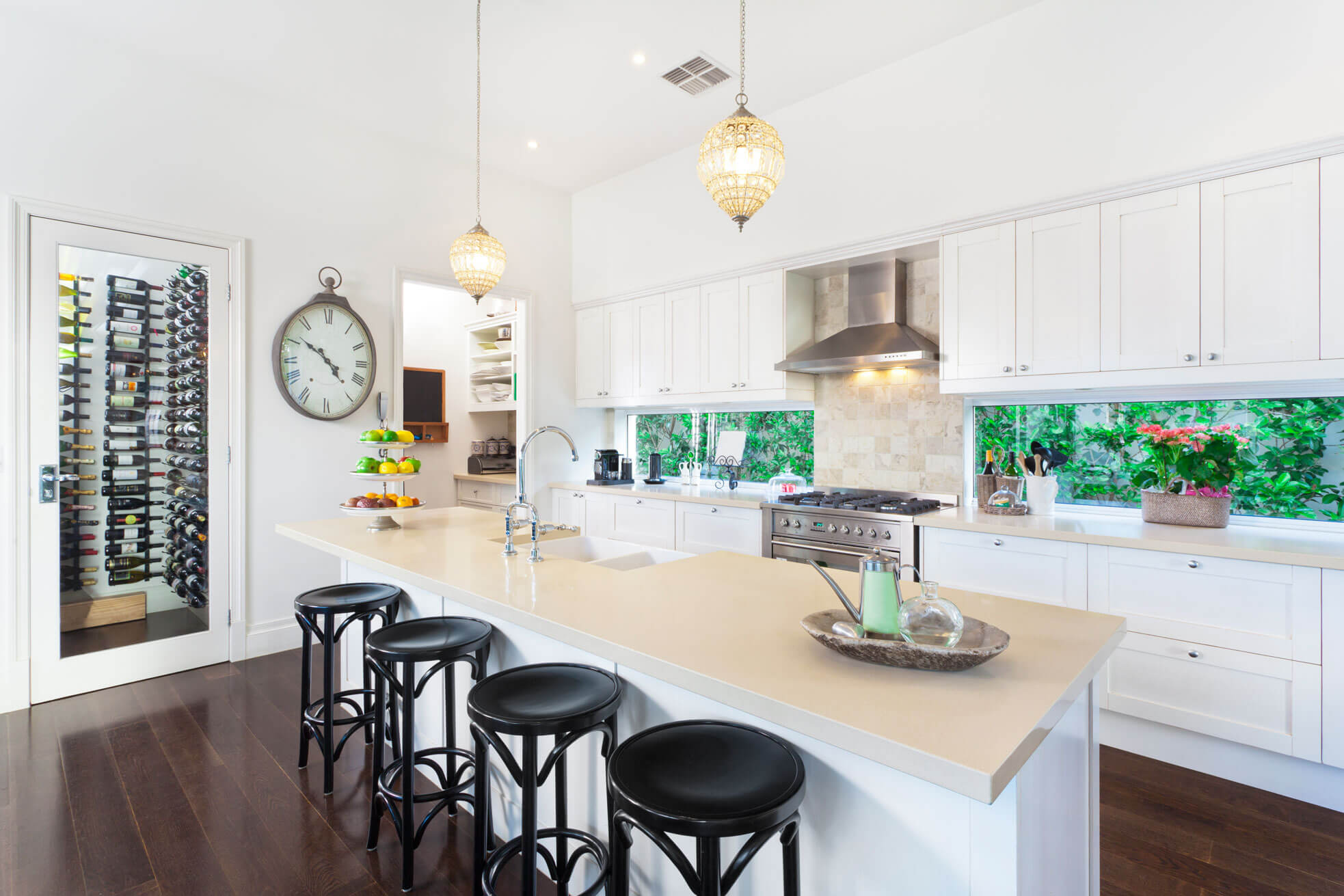 Get rid of the walls which separate the kitchen and make it an entertaining and socializing place.
Read more: The Spruce
#2. Extend the kitchen to the garden
There is an ongoing trend of connecting the external and the internal areas of a house. This helps to increase the area of the house and create more space. Extending a kitchen to the garden is an interesting way to do this. 
An extended kitchen will give that cozy, vibrant environment to hold parties and fire up a BBQ night, etc. This would also allow you to connect with nature while preparing meals.
Lighting will play a key role in adding color to a particular area of the house. However, you should select the style of lighting wisely.
The wall lamps in a kitchen are out of trend these days. Instead, install hanging pendant lamps or modern chandeliers to your kitchen. The under-cabinet lights will also give your kitchen that rich look and appeal.
The temperature of lighting is also important when designing the kitchen. We believe that warm white lighting is ideal.
Read more: My Domaine
A kitchen island can make a significant change to your kitchen. It provides a seating place for your lovely visitors or family members and have a chat with them while cooking the meals.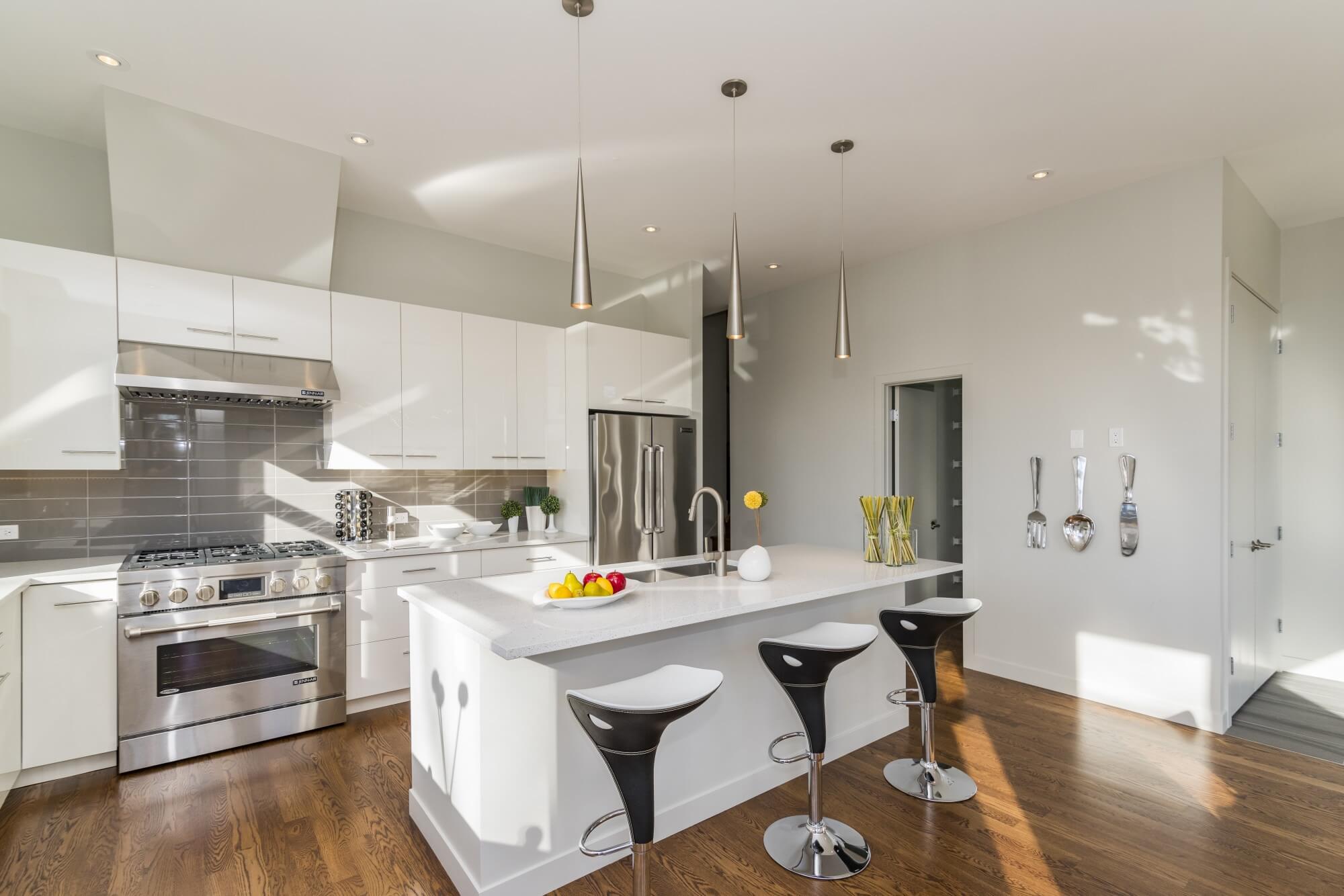 An island can also be used as another working station that keeps your chopping boards, knives, and cheese graters, etc. An island would allow another person to assist you in making preparations for the cooking without crowding the place. Yes, slabs and countertops could do the same, but kitchen islands are more appealing.
#5. Install new stainless steel hardware and appliances
A renovation is incomplete without updating the hardware. There are new stainless steel taps, sinks and other appliances in the market. These stainless steel equipment will add style to your kitchen and increase its aesthetic value.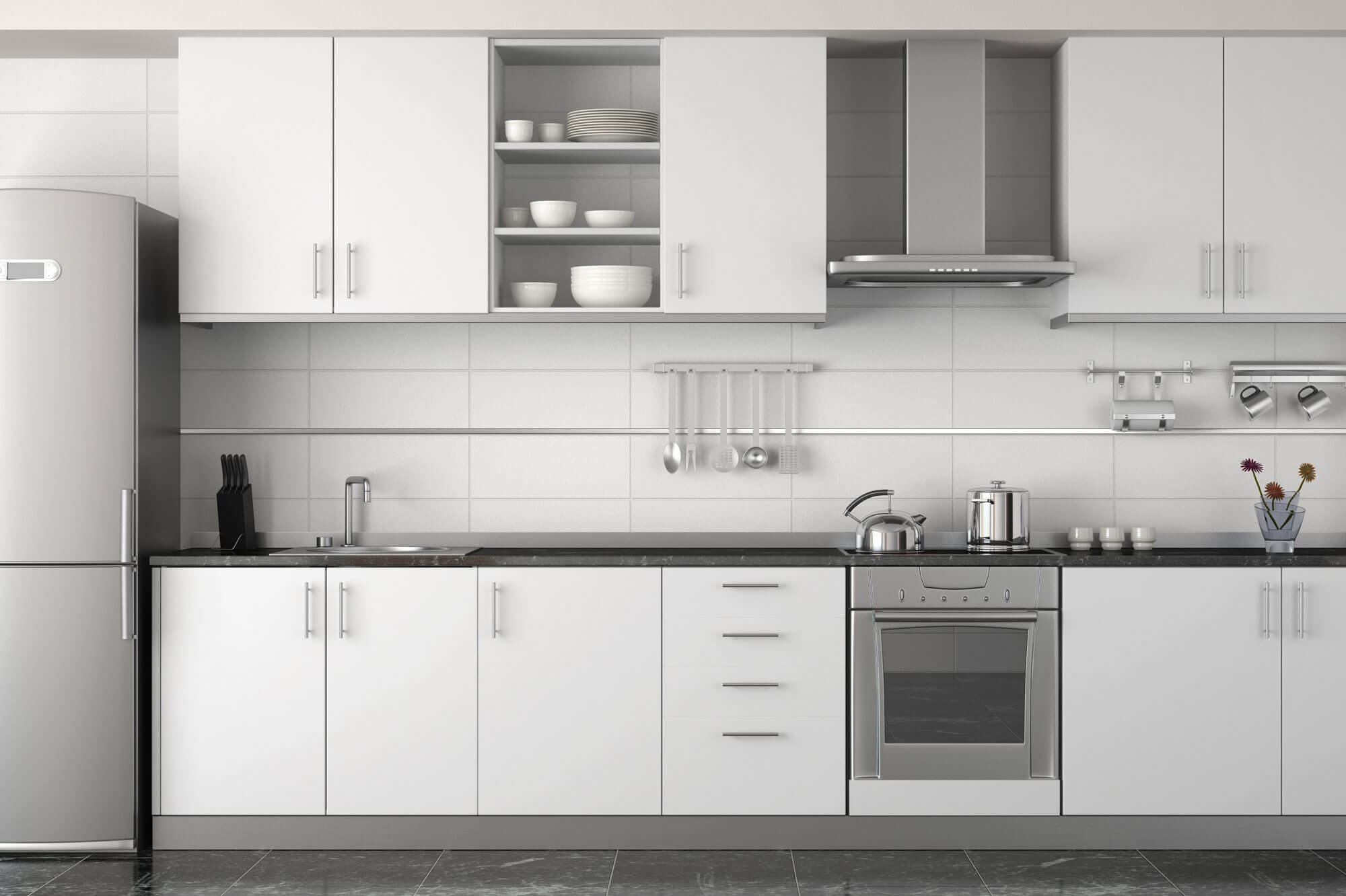 The stainless steel equipment doesn't rust easily. They are durable and easy to maintain.
#6. Create more storage space
You will never regret creating added storage in the kitchen. Added storage would help keep the plates, glasses, and other kitchen utensils. Pull-out cupboards and hideaway cupboards behind doors are some of the new trends to increase kitchen storage.
Read more: House Beautiful
#7. Improve the protection with a backsplash
A backsplash will help to clean the splashes caused when using the stove and sink. A backsplash would help to keep the wall clean and tidy. There are colorful and modern backsplash solutions in the market today. Marble, tiles, and quartz are most commonly used backsplashes.
Read more: Homes and gardens.
#8. Go for quartz or granite countertops
Countertops with marble or tiles could be cheaper. However, the quartz and granite would add that rich look to the countertops. They are durable, strong, and easy to clean. The granite and quartz come in different appealing colors these days.
#9. Pick panel ready appliances
The appliances integrated with the cabinets or cupboards are another game-changing trend in modern days. The panel-ready appliances are available in most appliance companies these days. This would give a neat and appealing look to your kitchen.
#10. Paint it new to match
Although white is the most commonly used color in a kitchen, adding other colors to match the fittings is a modern trend. White is a symbol of purity but is difficult to maintain. Therefore most people consider adding dark colors such as wood finish color to the kitchen walls.
#11. Give attention to the flooring
Hardwood floors can be quite expensive, but they give your kitchen a rich and appealing look. You can always go for ceramic tiles if you have a tight budget. However, keep in mind that kitchen floors would get dirty easily. Therefore try to go for dark color tiles like brown instead of white or light-colored tiles.
#12. You should not forget the ceiling
Although the ceilings are above our eyesight, your lovely visitors often look at them. Further ceilings can change the appearance of a lovely kitchen. Paint it with contrasting colors matching the walls and cupboards. You could also add panel lights to the ceiling.
#13. Install bold pantry cupboards
Pantry cupboards and cabinets can make a significant change to your kitchen. They come in various designs, colors, and materials to suit your expectations. The dark-colored or wooden colored cupboards can make your kitchen more attractive. They are easy to maintain and keep clean too.
#14. Try the open shelves
There is a modern trend of keeping the shelves open rather than installing closed cupboards. You can use wooden or metal shelves when designing the kitchen. Open shelves are ideal for keeping your glasses, plates, or decorative plants.
Read more: The Spruce
#15. Keep space for seating
If you have enough space in your kitchen, consider keeping a seating space together with an island or a table. Then you can have a chat with your loved ones or your lovely visitors while preparing a meal. This can also be used as a casual dining place.
#16. Choose beautiful wallpapers
There are various kinds of wallpapers in the market today. The modern designs will give an artistic look to your kitchen. The wallpapers can be cleaned easily, and unlike painting a wall, it doesn't incur much cost for maintenance.
Leave a portion of your brick wall unplastered. That unfinished brick wall can give a classic look to your kitchen. If you don't like the brick color, you can paint it with any color you want. It would still give the design of the unfinished brick.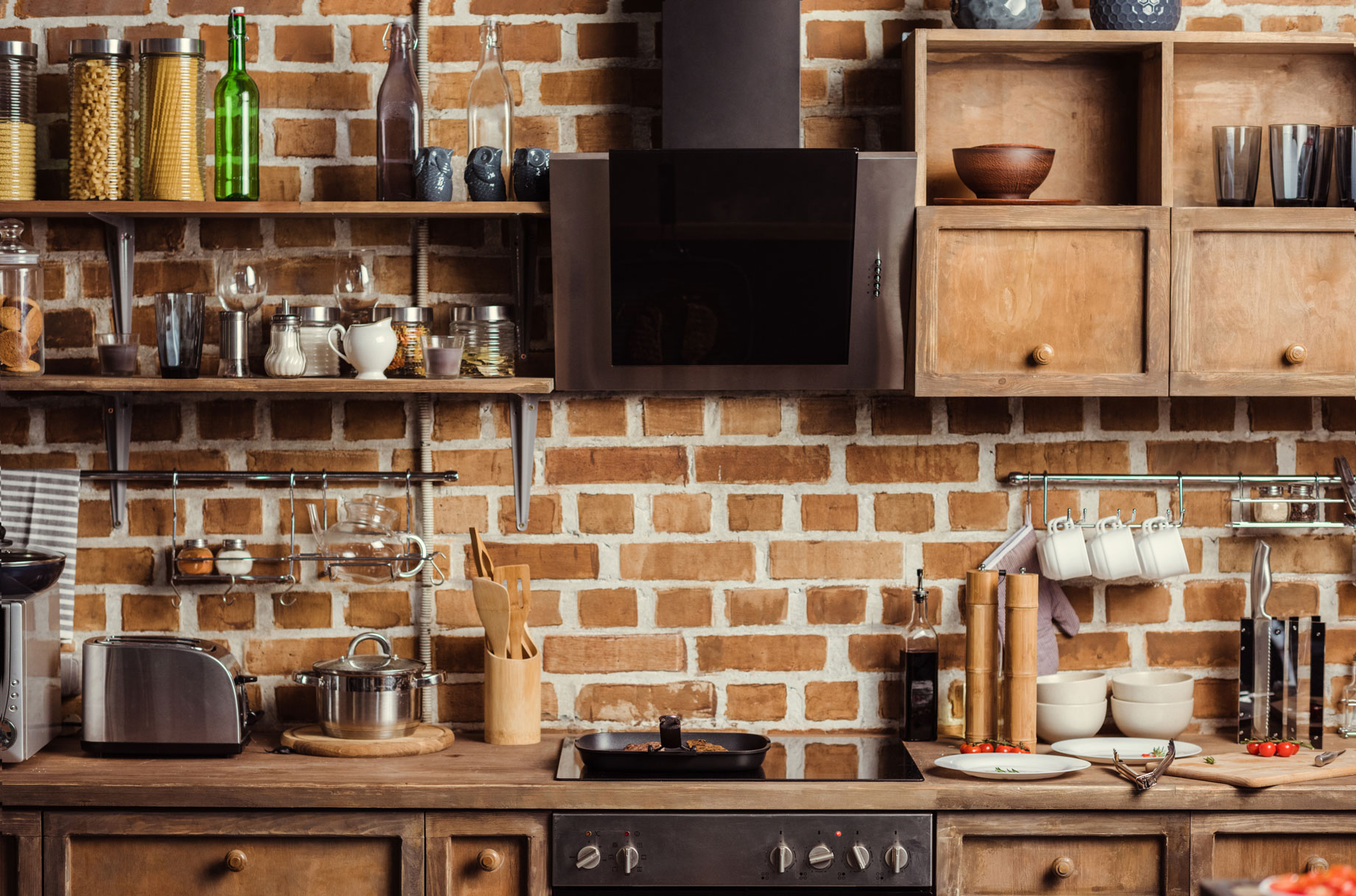 #18. Go glossy if you like
Some people prefer to give a glossy look to their kitchen. If you are a fan of glossy surfaces, you can design your cupboards accordingly, install stainless steel appliances, or use a glossy backsplash. These options are available in the market today.
The danger of keeping plants inside the house has been debunked now. Therefore you could hang some decorative plants inside the kitchen. This will help you connect with nature and have a stress-free mind while cooking.
A rug will add a final finishing touch to your beautiful kitchen. It would help to keep the kitchen clean and appealing. You should decide the carpet type, its material, where it should be placed, its design, etc.
Read more: Good HouseKeeping
Are you planning to renovate your kitchen? Then we have hundreds of professionals who could help you take your kitchen to the next level. You can get competitive quotes and compare the offers of various professionals before making a decision.
Visit our website today and meet hundreds of professionals who could get your job done perfectly.